Different types of best thermal scopes are available on the market in terms of brands, shape, sizes, quality, and performance. These thermal scopes make your task easier. So if you don't know much about it, we will guide you about each feature, specification, benefits, and limitations. Also, It is frequently used in hunting, shootShootingitary, camping, and traveling.
Well, These thermal scopes are useful in finding and targeting the object in dark places, thick bushes, rainy or foggy weather. Besides this, It helps to find the animals easily. We are reviewing some best thermal scopes and their guide. Read them attentively and choose the best one that suits your personality.
Related:   Best night vision binocular
Top Picks Best Thermal Scopes
Top Choice
Pulsar Core RXQ30V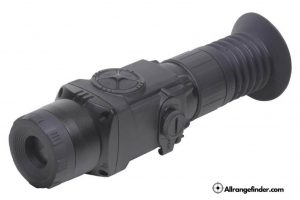 Best Budget
Sightmark Wraith HD
1. ATN THOR HD 640

Thermal Rifle Scope

Pros
Easy to see in darkness
Good quality image
Perfect resolution
Excellent design
Cons
Sometimes it is difficult to insert Micro SD Card
The ATN THOR HD 640 is one of the best thermal scopes with various color schemes and different selections of reticles. It is the ideal selection that uses heat energy to see animals clearly, even in complete darkness. The built-in smart rangefinder helps in shooting to kill the animals.
The ATN ThOR HD 640 thermal scope is perfect to target and kills the fast-moving animals in the darkness, and it also saves you from the wild animals wandering at night. You can even track the animals without leaving the ghost image.
Furthermore, ATN THOR HD 640 is 10 x 6 x 6 inches, and its weight is 2 pounds. It can easily catch the object at a farther distance with its 50x power. The image is clear and clean. You will not find flicker and crisp in it. Besides this, the ballistic calculator helps calculate the bullets' speed and helps to hit the target without missing the shots.
Specifications:
Dimension: 10 x 6 x 6 inches
Weight: 2 pounds
Scope: 50x
2. ATN ThOR-HD 2-8x 25 mm Thermal Imaging Rifle Scope
Pros
Come with zoom power
Build with high-quality material
HD and clearer display
Video recording technology
Cons
Too much power-consuming.
Another best thermal scope with 384 x 288 Sensors is ATN THOR-HD Thermal Imaging Rifle Scope. It is easy to magnify to see the target and shoot them with its Angle View of 12 x 9.5 Smooth Zoom. The ATN THOR-HD 2-8x 25mm scope has some common ATN THOR-HD 640 ballistic calculator, built-in smart rangefinder, and performance. In addition, the dimension of the ATN THOR-HD 2-8x 25mm scope is 14 x 8 x 5 inches, and the item weight is just 2 pounds.
You can record all the shooting and hunting activities by using its HIgh Resolutions HD Recoil Activated Video. So, don't miss your best practice on the battlefield and share it with your friends and family. It clears the target image by using heat energy. After reading the full features, we are damn assured that it will be your next credit card purchase.
To summarize, It makes your hunting and shooting task hassle-free and saves you from the surrounding danger. The Smart HD Optics Technology makes it unbeatable from other traditional thermal scopes. In short, It catches the heat energy from the object, converts it into a picture, and displays a clearer image of the targeted animal.
Specifications:
Dimension: 14 x 8 x 5 inches
Weight: 2 pounds
Zoom: 12 x 9.5
Recording: Recoil Activated Video
3. ATN ThOR LT 320 3-6x Thermal Rifle Scope
Pros
Budget-friendly
Made up with high-quality aluminum material
Perfect for short-range distance
Long-lasting battery
Cons
Entry-level scope
Low-resolution power
Another high quality built and perfect in performance comes from the ATN THOR brand. Suppose you have a tight budget, then this budget-friendly rifle scope bread that budgets barrier and comes to see the animals in the darkness. It comes with 5x magnification. It is an entry-level thermal scope and perfect for short-distance vision. Similarly, The ATN ThOR LT is lighter than traditional rifle scopes and requires minimum power consumption. It can run up to 10 hours with just a one-time battery charge.
Furthermore, the ATN ThOR LT 320 3-6x scope is expensive due to its easy working, and it can simply detect the animals or objects across the fogs, crops, or bushes and provide a sharp image.
The unit's size is 11.5 x 2.2 x 2.2 inches, and its weight is 1.4 pounds. It is sophistically designed with the high-quality aluminum material that makes it durable scope. But the only downside of this is that its sensor 340 x 240 loses image quality when zooming out. It only supports 5x magnification to see the objects. Some other features include its head detection sensors to see the target in complete darkness and every severe weather, 30mm tube scope, recoil resistance, and aluminum alloy.
Specifications:
Dimension:5 x 2.2 x 2.2 inches
Weight: 4pounds
Zoom: 5 x magnification
Sensors: 340 x 240
Battery Life: 10 hours
4. Pulsar Core RXQ30V Thermal Scope
Pros
High-end unit
Waterproof
Perfect for both short and long distances.
Powerful battery
Cons
The focus ring is not available
If you want to target the moving object with maximum accuracy, then Pulsar Core RXQ30V is one of the best thermal scopes with heat detection technology. Its dimension is 9.4 x 2.6 x 2.4 inches and designed with premium quality material. This high-end thermal scope comes with Iris technology. Similarly, The initial scope magnification range is 1.6x; however, you can increase it up to 6.4x according to your choice.
It is an entry-level thermal scope; that is what you think. It gives worth to your money and performs perfectly within the 200 yards distance. Similarly, the Pulsar Core RXQ30V scope is easy, compact, and easily controls navigation. You don't need to buy a power adaptor, batteries separately as everything is included in the package.
In brief, the Pulsar Core RXQ30V scope is perfect for Shooting, Climbing, Airsoft, Hunting, Tactical, and Military. It response fastly and you don't need to wait for long to turn it on or off. The complete package consists of hand straps, a Carrying case, torque screwdriver, User manual, 2 CR123A batteries, wireless remote control, and cleaning cloth. Opposite this, the drawback of this high-end thermal scope is that it does not come with manual adjusting focus rings. It is fully waterproof, and you can use it in rainy and foggy weather.
Specifications:
Dimension:4 x 2.6 x 2.4 inches
Weight: 65 pounds
Zoom: 4 x magnification
Sensors: 384×288
5. Sightmark Wraith HD Digital Riflescope
Pros
Affordable price
Made up with strong material
High-Resolution photo and video
Long-lasting battery
Cons
The camera eye-relief piece is a little bit large.
Another best thermal scope within the affordable price is Signtmark Wraith HD Digital Riflescope, ideal for low-budget users. A 17 x 3 x 2.5 inches dimension rifle scope has some exceptional features that make it 4 plus rating product. It is designed with premium quality aluminum and can support up to 16x magnification. Sightmark Wraith thermal scope is only 2-pound weight and compatible with the rifles.
Meanwhile, Sightmark Wraith HD Digital Thermal Scope has both day and night modes and separate colors. You can use white and black for the day hunting and green for night shooting/hunting. It's a 4 to 5-hour battery life enough to shoot animals in darkness. The Sightmark Wraith is easy to use and can record full HD video up to 1080p. Sightmark thermal scope is a versatile scope with a 1920×1080 HD sensor.
Specifications:
Dimension: 17 x 3 x 2.5 inches
Weight: 2 pounds
Zoom: 16 x magnification
Sensors: 1920×1080
Frequently Asked Questions
What thermal scope does the military use?
There are different brands, sizes, and the military uses quality thermal scopes. The most common thermals scopes include ATN THOR 640 and Sightmark Wraith HD Digital Thermal scope.
Can thermal scope see-through the wall?
Of course not! It might be seen behind the little handle like a curtain, windows, trees, or sturdy bushes but could not see across the wall.
Can the thermal scope be used in the daylights?
Yes! It can. Rather it is available in the black and white sign to see in the daylights.
Conclusion
Finally, a lot of research and information needs before buying the best thermal scopes fulfill your requirement and give your guaranteed satisfaction. If you have enough budget to purchase the latest technology thermal scope, then the Pulsar Core RXQ30V scope is the ideal product for you. Please read the complete review article attentively to get better benefits from our team research. The above-given products are the top ones in the industry.