Today we have Garmin Approach G7 & Approach G8 reviews. The Garmin brand spent many decades to make it the most positive rating rangefinder. They have used it in every field, including golf, hunting, scouting, shooting, and when they get satisfied, they launch it into the market to serve the people. Both GPS devices are suitable for beginner and intermediate golf players.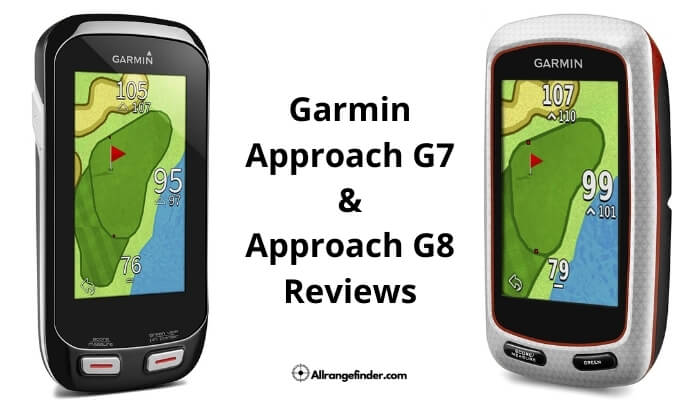 If you are a beginner or are using other rangefinders and don't have experience with Garmin items, don't worry at all.
We'll sort out this issue.
Please read our complete buying guide about Garmin approach G7 & Garmin Approach G8 attentively and get what you pay for. Our comprehensive review will solve all of your confusion about this branded item. 
Related:
Garmin Approach G7 & G8 Review
All Garmin Approach units come in pretty lightweight and handheld sizes, but Garmin Approach G7 & G8 has more surprising features and quality. A big colorful touch screen shows a clear reading of the distances and shows battery life at the corner.
It has built-in 40,000 courses across all over the World that will guide you at every yardage. It has a rechargeable, long-lasting battery that can support you for 15 hours in just a one-time charge on the golf course. 
If you are looking for the perfect companion that can withstand severe weather conditions, Garmin Approach G7 and G8 are perfectly built for rainy and foggy weather. So if you are thinking of making it your next credit card purchase, then these features impress you with its quality. 
What We Loved About the Garmin Approach G7 & G8
Let's discuss the Garmin Approach G7 & G8 rangefinders reviews with surprisingly positive ratings and make it a more valuable GPS device.
Give accurate and precise measurements.

Long-lasting battery

Lightweight, durable and water-resistance
Pros
40,000 preloaded and auto-updated courses

Budget-friendly

Up to 15-hour long-lasting rechargeable battery

Water-resistance

Durable and ergonomic design

Wifi Connectivity

Keep you up to date with notifications
Cons
Record some issue with smartphone pairing
Unique G7 & G8 Features
The Garmin Approach G7 and Approach G8 have some unique and combined features. Both are incredibly sleek, and modern designs can measure the accurate distances from the front, middle, and back.
It also has an impressive feature to pinpoint the target distance. The latest and compact software is installed in it to operate fastly. It helps to plan your game and also to judge your progress from time to time. The player can easily read their score and upload them with just a single tap. 
Garmin Approach G7 & G8 are lightweight, handheld, easy to operate rangefinders. They can measure the horizontal distance as well as uphill and downhill distance accurately. It will keep you up to date on your iPhone notifications, emails, messages, etc.
Its community helps to track your progress by comparing the score with other pro or medium-level players. Both have 40,000 preload courses that guide you at every stage to keep you up to date. These courses come with auto-updating, and you don't need to pay any fee.
Its touch and zooming features help to zoom the score on the display screen or judge the flag's precise measurement. Both Garmin G7 & G8 are reliable materials and a very durable rangefinder, even in harmful weather environments. 
Garmin Approach G8
The Garmin Approach G8 weight is 4 punches, and the dimension is 0.6 x 2.1 x 4.4 inches. It is a pretty sleek design and touches a colorful display screen that ensures easy reading. If you cannot read the result on its screen, the big number mode increases the font size, and you can see the result clearly and effortlessly.
It has many features that need to be discussed, like Pinpointer technology to identify your pin, and PlayLike Distance gives the distance between golfer and the target and adjustable for the uphill and downhill targets, Smart Notification informs you about new messages, alerts, and notifications. A 3 color touchscreen with a 15-hour stand with battery time is a gift for the golfers. 
Garmin Approach G7
The Garmin Approach G7 has 3.36 ounces, and the dimension is 0.8 x 2.1 x 3.7 inches. It is lightweight and convenient for golf lovers. I also stand 15 hour stands with a long-lasting battery similar to Approach G8. It also has some exceptional features, including PlayLike Distance, Smart Alert, and Big Number Mode.
The long-lasting battery will not leave you alone on the golf course. Garmin Approach G7 is a durable, lightweight, compact, and water-resistance GPS rangefinder. Approach G7 rangefinder provides you with every alert, message, and notification.
You can judge the exact distance between the target and the golfer by using the PlayLike Distance feature. It is capable enough to measure the distance from the front, center, and back of the green accurately.
It has a clear and bright large color display screen, but if you can't see it in dim light or bad weather, the Big Number Mode will zoom the screen to ensure effortless reading by increasing the font size. 
Golfers Who Need the Garmin Approach G7 or G8
The Garmin Approach G7 & G8 GPS Rangefinder will help you at every stage in the golf course. It consists of 40,000 auto-update courses for free. You can measure the distance or obtain the score and provide you useful tips to track the progress.
We can also share the score with the community to judge our expertise level. You can communicate with other experienced players in the community to get some useful tips. 
Final Verdicts
We have presented the Garmin Approach G7 & Approach G8 review. We have comprehensively described its features, uses, pros, cons, and it's working. A sleek design rangefinder at an affordable price is fantastic in the golf world. After reading the complete buying guide attentively, we hope it will surely be your next credit card purchase. You won't feel regret about your decision. If you have any questions comment here.