Everyone knows there are so many GPS watches available in the market but choosing the best one that meets the criteria with more than traditional features is limited. So we are giving you today the Golf Buddy Voice 2 Review comprehensively. After reading this review, your confusion about choosing the best product will come to an end.
If you don't know how to measure each yardage, you never become a golf course master. That's why our suggestion is to use GPS devices so that you can become a pro course manager in less time. So we are presenting our favorite Golf Buddy Voice 2 review so that you can choose wisely and play wisely. Find a list of best golf GPS watches here. 
Best GPS devices, Golf Buddy Voice 2 review. 
Pros
HD colorful screen

Long battery life

Budget-Friendly

40,000 courses worldwide

Tell measurement invoice

Read the distance in multiple languages
 These built-in courses are free to use, and you don't need to pay a single buck for updating them. You can easily clip it with your hat or bag to measure distance. Each short and long yardage measurement is available just at the twist of your wrist. An ideal gift for both men and women and the perfect companion for the golf players.
The voice 2 rangefinder also has some downside, like it has no customer support. You will not find a mobile number on their website. It does not come with a warranty.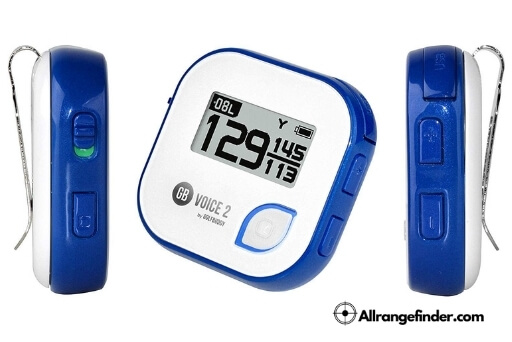 Features  Review of Golf Buddy Voice 2.
Let's discuss each feature of Golf Buddy Voice 2 in detail that ensures comfortable picking. Some prominent features include Dynamic Green View Technology, auto-detection holes, auto course selection, water resistance, describe distance in meters and yards. Another distinguishing feature is to read and speak the distance in both meters and yards. Due to its speaking feature, we don't have the need to see the screen as we can hear the result.
Measurement
Golf Buddy Voice GPS is effortless to use and accurately measure the distance from the front, center, and back. It comes with a built-in voice feature that tells you the distance loudly within 385 yards by pressing the button. It is a multi-language GPS unit that speaks the distance in 11 different languages in which 8 are available in men's and women's voices.
You can select any voice from the golf buddy manager program according to your choice. It can measure the distance quickly and can speak it in both meters and yards. Golf buddy voice 2 also has a feature to adjust the volume of the voice. It comes with automatic hole recognition and course features. It can even count each step and burnt calories.
Display
Golf buddy voice 2 rangefinders have enough colorful screens that you can check the measurement or time easily. It has a bright screen with a mono 1.2 inches display and also a screen flipping option for side down. There is no crack on the LCD, and it shows the result very fast. It shows the results and time crystal clear. The ON/OFF button is on the face of the screen.
Audio
Seeing every time on the screen when you are on the golf course is a hectic task. It just does not confuse the players but also lose their focus while playing. Audio features bring a revolution in the golf course, and it tells you every yardage measurement invoice. It helps to maintain the emphasis during playing.
Application
You can download and install the Golf Buddy Voice 2 app on your smartphones. It helps to keep you up to date with the latest courses. Just visit their website or go to the app store and download the Golf Buddy app. This app is compatible with IOS devices, Windows, and Mac operating systems.
Battery Life
The Golf Buddy GPS Voice 2 rangefinder has improved its battery life to 14 hours with a single charge in the GPS mode. The only glitch with the battery is that it does not show the battery indicator while charging it in both switches on and off mode.
The battery life of Voice 2 is not an issue as it will not die even if you play two rounds. It is a great option for players who are looking for a long battery device.
Frequently Asked Questions (FAQs)
How Easy is Voice 2 to use?
Golf Buddy Voice 2 simple and easy to use and travel GPS rangefinder. It has 5 buttons, 1 on the top screen and 4 are on the watch side. These buttons perform different tasks, including capturing the shots, activating and controlling the voice volume, and changing the display.
Can the Voice Activation be Turned Off?
Voice 2 has both voices on and off features. If you are playing solo, then you can switch it on to hear the voice. But if you are playing fast or silently, then you can switch it off. You have to keep the eyes on the screen to measure distance if the voice is off.
How Accurate is the Voice 2 Golf Rangefinder?
Golf Buddy Voice 2 rangefinder measures the distance, both short and long, more accurately. It can even measure 1 yard with maximum accuracy very fast. It can update the course automatically and detect the holes in both yards and meters.
What are the Wearable Options of the Golf Buddy Voice 2 Device?
Multiple accessories can be attached to wear the Voice 2 GPS unit. You can purchase straps to wear in your hands, clipped to your hat or bags, belt, or retractable clip. It seems to be the most flexible Golf Buddy GPS device. 
Our Verdicts
We have entirely reviewed Golf Buddy Voice 2 rangefinder. It seems to be all one solution for golf lovers. It is a good choice for budget players.
Although there are many GPS devices available in the market, the main thing is that first, you have to analyze your needs and then choose the best one that suits your style. If this unit does not meet your requirement, and you have more bucks to spend. Then you should check Golf Buddy Aim W10 GPS Watch. It will surely win your heart. 
You can find the best golf rangefinders under 100 and under 200 here.